Bucket List Fishing Trip
Fishing is an incredible outdoor activity that can fulfill your dreams when visiting Florida. Miami is the ultimate fishing destination. Many don't know that peacock bass reside and live in Florida. Our warm climates allowed for them to thrive and for you to enjoy a bucket list fishing trip.
Our local experts are highly knowledgeable of the urban systems to catch peacock bass. Years of experience has led them to know exactly the best methods to catch these hard fighting exotics. When you adventure out in Miami, you never know what will bite the end of your line.
Captain Kirk Osborne had the pleasure of fishing with James and his son. They were traveling to Florida for a vacation and wanted to get in some Florida bass fishing. Peacock bass were on their bucket list to catch and we made it happen. Miami bass fishing is incredible this time of year as the weather is still very warm and the bass are actively feeding.
Before heading out on a cruise, James and his son explore the Miami Airport Lakes. This location is perfect for the traveler looking to get into the bass right off the plane. The weather was great on this fishing trip making for a fun day on the water. They caught several peacock bass with the biggest weighing in the range of 3 pounds. Most of their fish were between 2-3 pounds. A peacock bass of that size can put up a great fight.
Captain Kirk is looking forward to fishing with James and his son again in the future!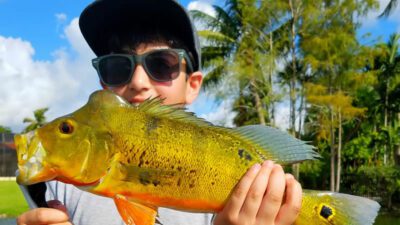 Just shortly after this awesome fishing trip, Captain Robert Miley adventured out with Omar and his son Abdul. They were traveling from Pakistan and wanted to experience something new and different while visiting. It was going to be a great day on the water for them catching a variety of exotic species here in Miami, FL.
The Falls Canal System was a great option for their fishing trip as it gave them a true flavor of what fishing is all about here in Florida. Omar and Abdul wanted to use light tackle and 10 pound test line but that is not the right line size for fishing here in the canal system. The peacock bass are very aggressive and use structure to get free so you have to use heavier line. After missing multiple fish, they switched over to the Captain's set ups.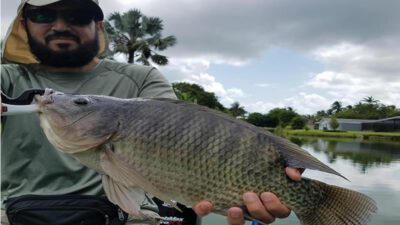 Omar and Abdul caught 5 peacock bass along with a Midas Cichlid and a Tilapia. The weather was very hot and the water levels were high in the Falls Canal System. Once the sun came out the bass were swimming and they started biting. They had a great time catching exotics.
Captain Miley had blast fishing with these gentlemen and is looking forward to the next time they visit Miami!
Don't miss out on your Miami bass fishing adventure. The fishing is getting hotter and the weather will start to cool down. Great fishing is ahead and our local experts can put you on some nice bass.
Come Visit Florida and Catch Yours Today
Book Your Airport Lakes Fishing Trip TODAY!!!
Book Your Falls Canal System Fishing TODAY!!!
Don't forget to follow us on Facebook, YouTube, Twitter and Instagram.