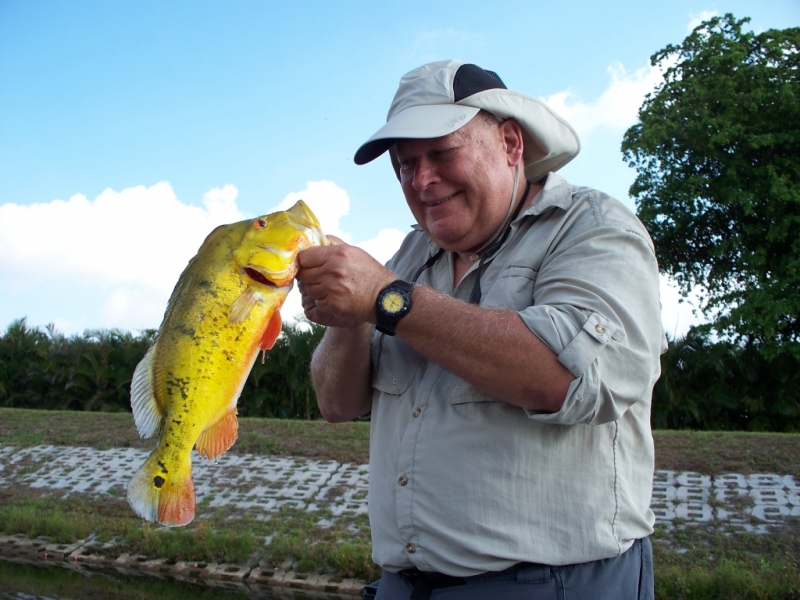 Today I had the pleasure of taking out Ernie Hockenstein on Lake Ida. Ernie, contacted us at BassOnline.com several weeks ago, his son lives on the Lake Ida change and has seem me driving around catching fish. Knowing Ernie loved fishing, he wrote down the name and number off the side of my boat and gave us a call.
Ernie and I had a great day and the morning was full of excitement. We started throwing a small pop-r lure, the peacock bass were just loving it. As the weather started to change and morning rains started rolling in, this called for additional change. So, we elected to go with a sub surface lure and started catching even more peacocks as day when on.
When the rains started coming down even harder we decided to call it a day, we ended up with fifteen peacocks in just 4 short hours. In any conditions this is a good morning of fishing.
Check out our Florida Peacock bass website for more additional information.
Tight Lines,
Capt Brett (954) 445-4516 cell
(888) 629-BASS
bretti@bassonline.com
www.bassonline.com
www.flpeacockbass.com
www.hawghunter.net
www.basson-line.com
www.bassauthority.com