This week I had the pleasure of taking my return customer Ken Acher out for three days of fishing.
Ken decided after last time, that he was going to share it with a few of his friends. So, we ended up with 6 guys on 3 boats for 3 days, these guys were awesome, good fishermen and all from the big state of Texas.
We started the first day on the famous Lake Okeechobee which was a little slow, but it was good for the size fish we were catching. No giant trophy bass today, but one of the 3 boats caught every fish on topwater lures. Overall, all three boats did pretty well and a great start to 3 days of fishing.
The second day was in the Everglades, with the rising waters from rainy season the fishing was unpredictably slower then normal. Our first location, the water raised almost two feet overnight. Putting in at the boat ramp I know we were in trouble. All three boats split up to cover the area as fast as we could, a couple of 3 and 4 lb fish were caught, but I still wasn't happy with the results. So, we decided to pull out all three boats and go launch at another location. This is something they were very surprised about. Ken even remarked, "the effort you guys are giving us is not going unnoticed." I have went with guide services all over the county and never had one put fourth the effort that you guys are. The move was a good one, not only did we stop for lunch as a group which was a lot of fun but everyone got to put fish in the boat after we relocated.
On the third day we did really good, almost like we had planned it this way..haha. We headed south to Miami area for Peacock bass, once we arrived all three boats headed to the same location to make sure we put fish in the boat as fast as possible. The weather forecast was 80% rain, so we know we had to work quick and inefficiently as possible.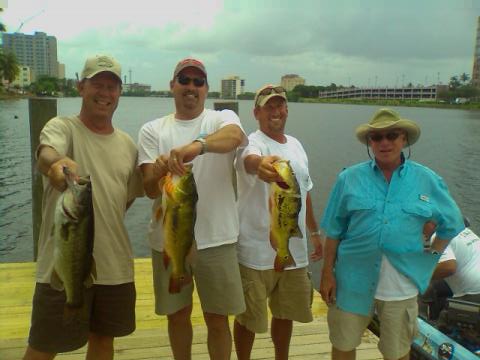 All 3 boats started putting Peacock bass in the boat right-a-way, then we split up to try to locate new groups of fish. We did this until lunch time where we all stopped and went to lunch at the famous Sonia's Cuban seafood restaurant.
As normal the weather forecast was wrong again, "are these the only people in the world that can be wrong most of the time and still get raises"…haha. Well, on this day we were glad the weather forecast was wrong. After a nice lunch we all headed out in search for the group bragging rights, "that we were the best on this day."
At the end of the day, each boat had over 25 peacock bass, that's more then 75 for this group in one day. With one largemouth bass weighting-in at 5.4 lbs and tons of 3 & 4 pound peacock. But none would match the 7lb-4oz peacock bass that was caught near the end of the day, what a trophy Florida Peacock bass.
We really had a good time with guys and are looking forward to seeing them again next year the even a bigger group!
Check out our Florida Peacock bass website for more additional information.
Tight Lines,
Capt Brett (954) 445-4516 cell
(888) 629-BASS
bretti@bassonline.com
www.bassonline.com
www.flpeacockbass.com
www.hawghunter.net
www.basson-line.com
www.bassauthority.com